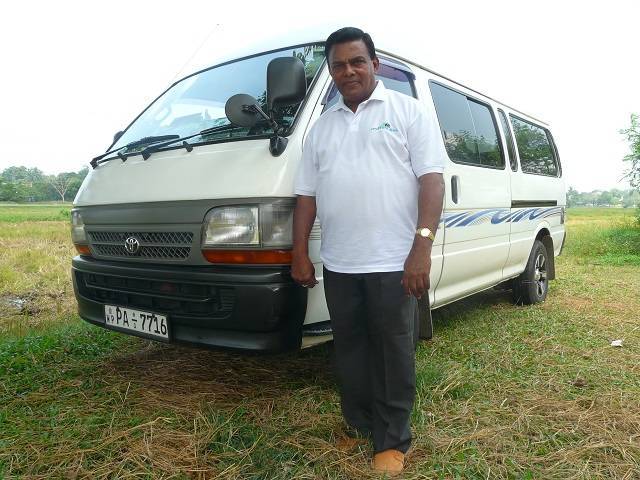 Name   : William
Vehicle: Toyota Hiace
William is a chauffeur guide with many years of experience in the tourism trade. His special interest lie in Sri Lanka's historical and cultural heritage sites. He possess a rare knowledge of the northern areas of Sri Lanka. He strives at all times to offer his clients his best and has an excellent sense of humor and he is also a great story teller. He goes above and beyond to make sure his clients are satisfied.
William enhanced our Sri Lankan holiday experience considerably.He shared his knowledge of all aspects of Sri Lankan life(e.g.: culture,politics,religion etc…)with much enthusiasm. William's appearance was immaculate and he was always courteous and attentive to us.His driving skills were excellent and we always felt safe and at ease. William introduced us to many Sri Lankan delicacies and often stopped on our journey's to pick up and share local produce. William's use of English and some of the phrases he used were both amusing and interesting,we will take some of these to use back in England.His cheerfulness,enthusiasm and ability to tell a good tale,especially the wild boar story had us in "stitches"! Williams abiding phrase was"If you are happy I'm happy"-I can assure you that we are very happy.
From United Kingdom
Sat 28th February 2015 28.00AM
From Spain
Tue 5th May 2015 5.00AM
William was very knowledgeable,polite and always on time.puts a lot of effort to ensure we are having a good time.Nothis is too much trouble.The van is always clean.He is a safe driver,We would definitely recommend him.
William really made our holiday perfect.From the moment he picked us up in Negombo his smile and caring personality shone through.We needed to change our plane because our daughter was unwell and unable to travel,but William was so helpful ringing the hotel and changing our itinery.on route to Sigiriya he stopped to sample local delicacies like curd & honey and jack fruit,he pointed out places of interest and shared his knowledge of Sri Lankan and culture.He was punctual for all our excursions,making sure that the things we did were of interest to both us and our children. I cannot praise William highly enough and want to thank him for making our holiday so special.William is one in a million.
From United Kingdom
Mon 22nd June 2015 22.00AM
From Netherlands
Tue 30th August 2016 30.00AM
We had an enormously enjoyable holiday in Sri Lanka with our two sons. Sri Lanka is a beautiful country and very suited for a family holiday. But what made our holiday truly wonderful and relaxed was having William as our guide – chauffeur. It made the logistics a lot easier, and added a tremendous amount to the journey. William is very knowledgeable about his own county and his English is flawless. With the wisdom of a seasoned storyteller, he could explain many things about Sri Lanka in a meaningful and understandable way. As a host he was always considerate with an approach that both focused on our wishes whilst still anticipating our needs.  
His overseas experience working abroad meant that he related to foreigners well, allowing him to stay flexible and adaptable. William is very welcoming and service oriented. His vehicle was always spotless and he thoughtfully arranged for some fruits for us to eat during long journeys, such as rambutan, banana´s, avocado´s. He has an extensive network, and is familiar with all the sights across the country, including the less obvious ones. So there was no end to the ideas about what activities to do or places to visit. We´ve left Sri Lanka with regret, and saying goodbye to William was part of that.   Anne, Nigel, Joshua and Owen The Netherlands, august 2016
I have just returned  back home from my tour. I would like to thank you for arranging everything for me and all went nice and smooth as you planed. Our driver Cum guide Mr William  was brilliant and he looked after all our needs in a very good way. We were celebrating my wife's 60th birthday  and he manage to arange with the hotels to make it special for her. He was very friendly  and courteous.  Please give our thanks to him and I would recommend him and your company to my friends.  Thanks again for making our holiday memorable.  
From United Kingdom
Mon 20th March 2017 20.00AM
From India
Tue 21st August 2018 21.00PM
This is our last day in Srilanka and I cannot tell you how much nice time we had here. I strongly feel I owe it to William Sir our chauffeur, guide and of course thanks to you and your company for all your help and support. This review will be incomplete if I do not express my gratitude towards William sir with whom we always felt safe, comfortable and at home. He was part of our family and we always felt that we are in hands of mature professional and very nice person so we had no worries and were free to enjoy. Many many thanks to William and our best wishes to him for future. And big thank you from my son to William Uncle for chocolate strawberry for his wonderful car and elephant views. Regards and thanks