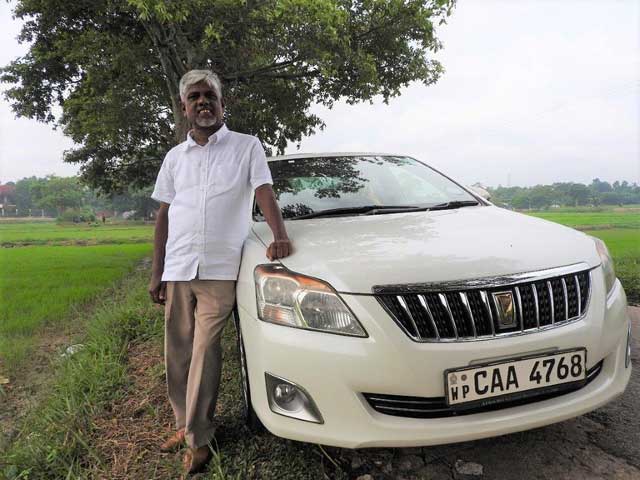 Name   : Weerawardhana
Vehicle: Toyota Premio, Mercedes Benz E200
Weerawardhana in short known as 'Weere' has been working with Ceylon Escapes for the last 2 years. Overall Weere has experience as a driver guide for over 30 years. He loves sri lanka's history, culture and also he does a lot of treking. Weere spends his lesure time with his family, currently his daughter is studying in Canda. We have always had great feedback from all his clients
Weere our driver plus guide was fantastic, made us feel very welcome and at ease, his driving made us feel very safe on otherwise unsafe roads. He could not have done any more to help us and we learned a lot from him.  Would definitely recomend Weere to others. We would like to thank Weere for all his help and local knowledge.
From United Kingdom
Wed 10th June 2015 10.00AM
From United Kingdom
Sun 13th September 2015 13.00AM
Our driver was fantastic, his advise was always good and his knowledge of Sri Lanka was excellent, Thank you for making our holiday run smoothly. It was an experience we would never forget.
Weere was our driver/guide provided by Alex at Ceylon Escapes for 12 days .He was always punctual and well turned out .  Because I was ill at the start, our tour was delayed and Shane helped us both greatly at the hospital .He was invaluable talking to the hospital staff and keeping us calm .We cannot thank him enough for his help and kindness.  Once on our way he turned out to be an extremely knowledgeable and careful driver .We felt safe at all times .Our holiday was very enjoyable helped by Weere's comprehensive knowledge of Sri Lanka, it's customs and history .I did hope at one stage that there wouldn't be an exam at the end ! Joke .We would recommend Ceylon Escapes and Shane to anyone looking for a courteous and efficient driver/guide in Sri Lanka.Thank you again  
From United Kingdom
Thu 24th March 2016 24.00AM