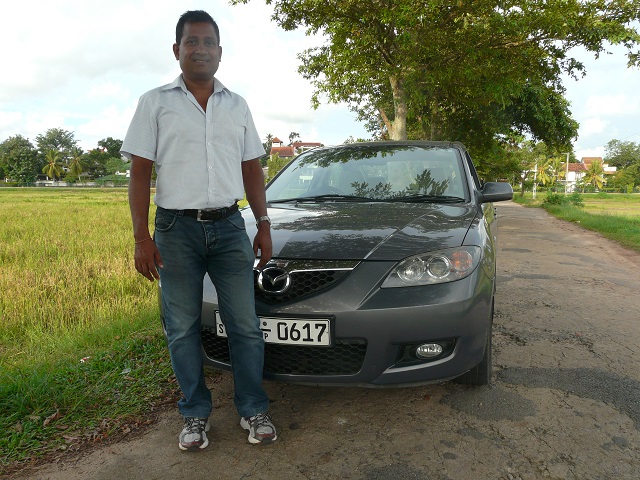 Name   : Tissa
Vehicle: Toyota Hiace, Toyota Allion, Mitsubishi Montero, Glory
Tissa has been working as a chauffeur guide for the past 10 years in Sri Lanka. He also has experience in the hospitality trade in Japan in the past. A chauffeur with vast knowledge in Sri Lanka's rich and colorful cultural history, his special interests lie in religious and sacred sites. He is an expert on using roads that are off the beaten track. He will truly enhace your local experience in Sri Lanka
Thissa was  a great guide and driver.We felt very safe and protected with him.He had great knowlege of temples and history.We felt very fortunate to have him share the Sri Lankan culture with us.He was professional in every way.
From China
Mon 6th April 2015 6.00AM
From United Kingdom
Tue 6th October 2015 6.00AM
Tissa is a friendly,knowledgeable and all round fantastic host.He made us feel safe throughout the trip,gave us advice on the best places to go,local cultures and took us on some amazing excursions.Through out the trip Tissa shared his knowledge on local history with great enthusiasm and patience when we didn't fully understand! He went above and beyond to ensure we had a safe and enjoyable time.Tissa is very passionate about his job and so committed to delivering the best service and on top of all that he has a great sense of humor,keeping us laughing throughout!! We all feel we made a friend in Tissa and would recommend him to anyone we know who is coming to Sri Lanka,He has made our holiday complete.
Thissa has been an excellent chauffeur and guide throughout our holiday.He met us at our first hotel and nothing has been too much trouble. At one stage my husband lost his bank card and Thissa was extremely helpful and understanding.He was sensitive to our groups needs as we had generations traveling together. His driving skills are excellent and we always felt safe in his judgment. He has made our first visit to Sri Lanka very enjoyable.
From United Kingdom
Sat 12th April 2014 12.00AM
From United Kingdom
Sat 26th March 2016 6.00AM
Having returned from Sri Lanka just over a week ago, I want to thank you for organising the car and driver. I also want to let you know that the driver (Tissa) was fantastic.  Tissa was friendly, informative, respectful and courteous, and was a superb guide and driver. His knowledge of Sri Lankan (and Buddhist) history, nature (wildlife, birdlife and vegetation) was fantastic and he certainly helped make our visit to Sri Lanka very memorable. He also was able to make recommendations when we asked for them. On top of this, he was an excellent driver. He kept the car very clean (I think he cleaned it every day) and we felt safe in the car. We would recommend Tissa to anyone! Please share our comments with Tissa, and thank him once again for being our driver and friend in Sri Lanka.