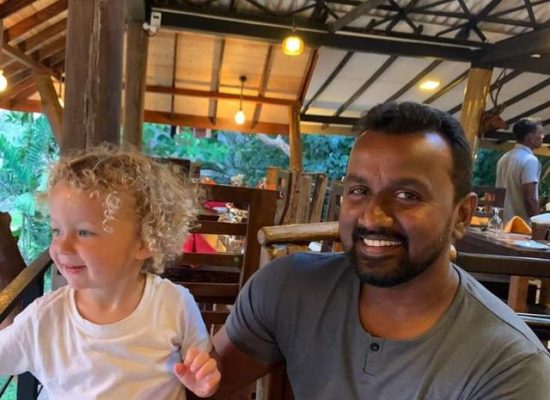 Name   : Sumedha
Vehicle: Toyota KDH minivan
Sumedha is an experienced senior chauffeur guide with over 20 years of experience. Sumedha has done many tours with families and they always can't seem to have enough of his company, most end up returning for a second or third time. Also the kids love spending time with him which makes life easier for the parents. Sumedha is usually a quiet reserved person when not on tour but when he is on the job he is a totally different person. He has special interest in Sri Lanka's cultural heritage and ancient archeological sites, nature treks, wild life and possesses good knowledge of Sri Lankan history.
From England
January 2020
Thank you for being a super guide and showing us around your beautiful Country . The whole trip was fantastic and you did an amazing job as a guide . Your English is excellent and your knowledge history and Wildlife of Sri Lanka is exceptional. We learnt So much and had so many extraordinary moments that we will never forget .
Thank you for introducing us to amazing Sri Lank snacks , we love . Curry ,vegetable Rotis , king Coconut and fresh corn . Delicious !!!
Thank you for your wonderful tour of Sri Lanka . We have learnt So much about this beautiful country thanks to you .
Thank you also , for your warmth & patience with our three small children ( They love you ! ) . Your punctuality and nothing is too much trouble attitude was greatly appreciated , as was your super clean & tidy car too.
We will be recommending you all our friends , and I'm sure we will be back driving in your car again soon .
Love & best wishes .
Luke , Alice , Lachie , Harry & Lucy
From United Kingdom
December 2019
From Germany
February 2019
Thanks for being such an incredible , enthusiastic and knowledgeable guide ! Your little bits of information every where were fascinating thanks for teaching Buddhism and your amazing country !
me so much about You were always up for anything , ever a 20km cycle … I will miss you .
We were so lucky to have you as a safe a patient driver in the madness of tuktuk , a buses … We loved all the information you ( about funny plant , that love when you touch them ) shared with us and to hotels with very difficult access roads . and learned a lot . Always on time ,
Thank you for being an guide ! You always informed us about everything ! Your jokes and UNO games were hilarious ! We will miss you even more than the Sri Lankan banana juice !