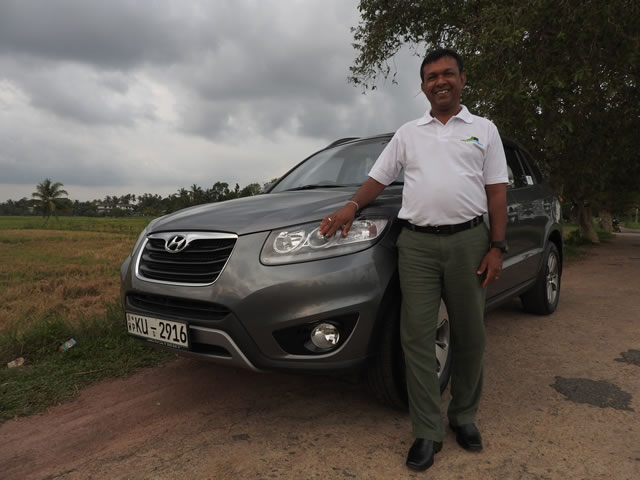 Name   : Shantha
Vehicle: Hyundai Santafe, Mercedes Benz E class
Shantha is an expert in the many cultural sites of Sri Lanka and possesses a great wealth of knowledge in colorful wildlife. He is of a friendly and outgoing nature and is always accommodating to clients request and is always willing to help.
From Ireland
Thu 10th November 2016 10.00AM
I picked Ceylon Escapes based on TripAdvisor feedback. Right from the start they were excellent. I made up my own itinerary and booked our hotels through a travel agent. Alex dealt with my initial enquiry at Ceylon Escapes. We opted for a SUV and found the prices quite reasonable. We booked about 6 months before the trip and everything was straight forward. Half way through the holiday there was a problem with our first SUV which was resolved without any interruption to our trip. Both SUV's were spotless and there was wifi available in the car. Our driver met us off a 04:30 flight into Colombo. We headed up to Habarana and managed to get an early check in. For the next two weeks we toured staying at 5 hotels. 
Our driver and guide for the first 11 days was Shantha. This guy is a walking encyclopaedia of the history and wildlife of Sri Lanka. Not only that, he is a lovely lovely man. He reorganised my itinerary but made certain we saw everything we asked to see. We had hoped to see World's End but my original itinerary would have prevented this. With his advice and the help of our agents (Kuoni) we stayed a night at Nuweli Eliya and had a great day walking Hortons Plains. 
Shantha has his pick of safari drivers so I believe we had the best drivers for the three safaris we took. Shantha's enthusiasm for the animal and bird life is infectious. I believe we saw most of Sri Lanka's animal population during our trip. We saw two leopards and he was more excited than we were. I can only marvel at Shantha's knowledge of Sri Lankan history and the Lord Buddha . We managed to see all the main historical and religious sites during our trip with Shantha reeling of the names of Sri Lankan kings and their battles and dates.  
Sri Lanka is a wonderful place to visit. Without a guide you will miss out on so much of the historical sites. With a good guide it turns a great holiday into a holiday of a life time.  Our thanks go Ceylon Escapes, to Alex, Dirk,Sarath but most of all to Shantha.