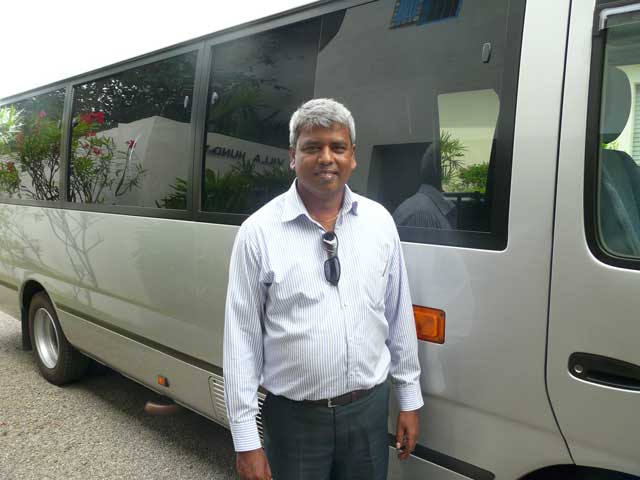 Name   : Seelan
Vehicle: Toyota Coaster
Seelan is one of the best national guides currently available in the industry. He has a wealth of knowledge and experience of more than 15 years as a national guide and won the runner-up prize at the 2007 Presidential Awards for the Best Tourist Guide in Sri Lanka for his specialized subject, the Ramayana-related sites in Sri Lanka. Seelan's interests include community-based eco-tourism, adventure activities, and trekking along the Ramayana Trails. Apart from this he also loves helping out with cricket tours, he enjoys sharing his experience with the younger generation. It is a previlage to have him on our team.
From United Kingdom
Wed 12th August 2015 12.00AM
It is with great gratitude to our guide Mr Seelan that I write this letter. His kindness,compassion,knowledge and expertise are beyond words. My father who is 87 years old organized this trip so his grandchildren could see his homeland, specially the very best of it. Mr Seelan exceeded his wishes and made possible an experience none of us will ever forget. Without him we all would have only had a superficial exposure to the culture,history and flora and fauna.  Mr Seelan provided so much insight and background history and information, we all came away with a much deeper understanding and appreciation for the country. We all (12) can not thank your company enough for providing us such a wonderful guide. He gets our full five stars platinum rating.  I would be honored to recommend him to the most discriminating clients you may have. Further more it is with a bit sadness we are leaving this paradise of a country, not only because all the beauty we have seen but also beacuse we must say farewell to our friend Seelan. Overall our experience far surpast our expectation mostly due to Seelan.
I have worked for Travel blog for the last 8 years and the last 4 as the Operations Manager. I have been on many holidays which have often included tour guides.I would say that T.Sathyaseelan(Seelan) has been by far and away the best. He has a great knowledge of Sri lankan culture,it's flora,fauna,traditions and many other details which are interesting to tourists.He imparts this information with much enthusiasm and patients. Seelan's driving has been excellent, being two ladies on our own,he has looked after us and made sure that we were safe at all times. He has always been punctual and his car has been 100% clean and tidy with fresh flowers in everyday to make us feel welcome. I cannot recommend him highly enough. He has been friendly, professional at all times, he has been sensitive to our needs and made our holiday in Sri Lanka an unforgettable experience.
From United Kingdom
Fri 17th July 2015 17.00AM
From Hong Kong SAR China
Fri 22nd April 2016 22.00AM
We are enjoying our last day in Sri Lanka at the wonderful Galle Face Hotel. I wanted to tell you how much my friends and I have enjoyed our last 10 days here.  We have some great memories to take back to HK with us. The itinerary you planned for us was perfect and I can only say great things about Seelan. He looked after us well all the time, always concerned for our safety and enjoyment and was polite and respectful. His driving was excellent as was his guidance at every location we visited. He has a very extensive knowledge of Sri Lankan history, culture and natural history. He seems to know the names of all the plants, trees, animals and birds. The restaurants he introduced to us for lunch and dinner always met our expectations. I tried, but cannot think of any criticism to make. I will not hesitate to introduce Seelan and Ceylon Escapes to my friends who are interested to come to Sri Lanka. Thanks for everything. Best regards