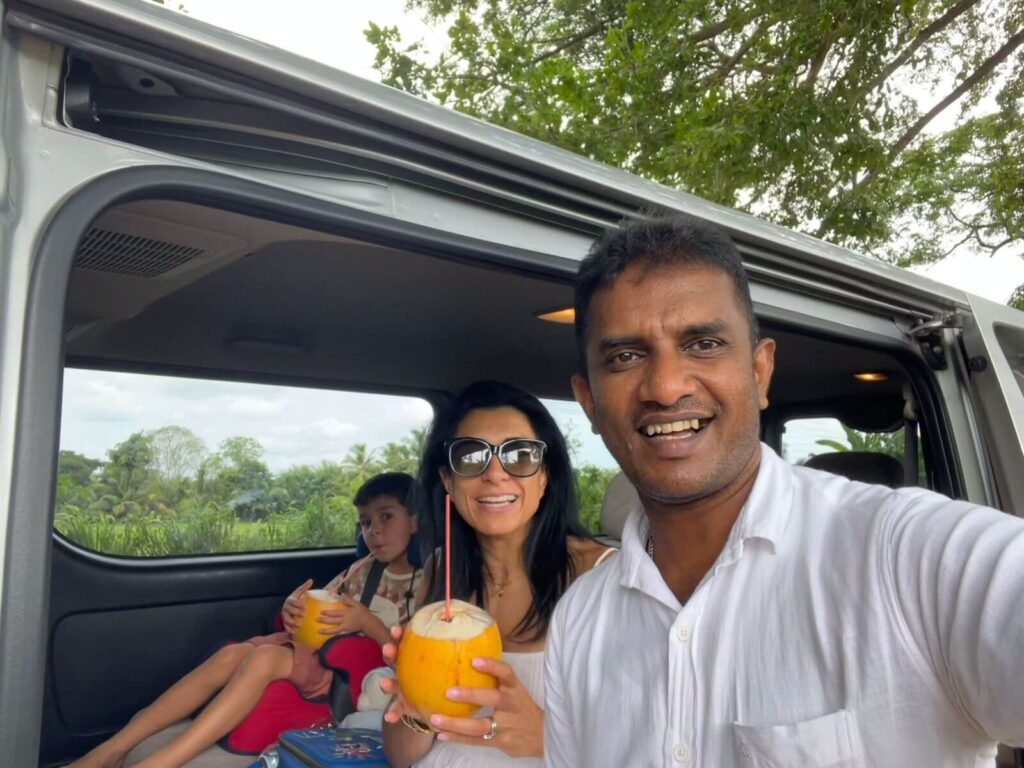 Name   : Sarath
Vehicle: Captiva LTZ, Toyota Hiace, Toyota KDH
Sarath has more than 12 years' experience as a driver. He possesses a wealth of experience and knowledge in all areas of the country. He specializes in wild life and nature tours. He is a very passionate and dedicated driver. He is of a warm and courteous nature and is always prepared to go above and beyond expectations to help his clients have an enjoyable and memorable experience. A dedicated father and avid sportsman Sarath enjoys spending his free time with his 3 year old son and engaging in cricket and other sports activities.
From United States
Sat 1st August 2015 1.00AM
My daughter and I are at the end of our week of vacation in Sri Lanka. We started in Colombo and visited various sites, we hired Sarath as the driver for the week and i can highly recommend him. He is very knowlegable, courteous, completely reliable (He was always there on time) and most importantly he was a safe driver. (driving is a challenge in Sri Lanka) If we come to Sri Lanka again we would without hesitation hire Sarath to provide our transport needs. 
Our driver Sarath was fantastic friendly and knowledgable. He was always ready to help with watever we needed, this even included taking us to great doctor when the need arose. I would not hesitate in recomending Sarath.
From United Kingdom
Mon 12th October 2015 12.00AM
From United Kingdom
Mon 2nd November 2015 2.00AM
Sarath our driver was excellent, a very safe driver. Even on the busy chaotic roads. I would highly recomend him for future tours.
Sarath was invaluable for the duration of our trip. He went above and beyond on a number of occasions, notably chasing us when we'd gone for a trek when the rain started to bring us umbrellas and guide us back safely; and also staying with one of our group who wasn't able to board the return flight, arranging for a hotel for the night and then driving to the hotel and back to the airport the next day. He made great suggestions on restaurants whenever we asked, was an incredibly safe driver and I and the rest of the group couldn't recommend him or Ceylon Escapes enough.  
From United Kingdom
Tue 17th November 2015 17.00PM
From United Kingdom
Tue 12th January 2016 12.00AM
We just wanted to let you know that Sarath was an amazing driver and companion for our journey. He was an excellent chauffeur and drove with ease and confidence, as well as patience and courtesy through all conditions. He was also an excellent companion and guide. He is extremely well informed about Sri Lanka's natural world – both plants and animals – and pointed out many things that we would have missed as well as offering insights into things we found ourselves. He was always courteous, obliging  and punctual and his car was spotless every morning. He helped make our trip through Sri Lanka truly wonderful. We wouldn't hesitate to recommend him or use him again.
We visited Sri Lanka for 2 weeks in October. We were greeted at the airport by Sarath from Ceylon escapes. We decided to use Ceylon escapes as they came up more affordable than the other companies we had looked into and the reviews looked to be great. We weren't disappointed! Sarath was very friendly, his English was of a good standard and he was very flexible with us and our changing itinerary. He arranged a couple of great safaris on our behalf and suggested activities for us to do in the local areas. Sarath really went above and beyond to ensure our trip was enjoyable and above all was a very safe driver!!!  Sarath had to go and start another job when we were due to go to back the airport, we had his brother in law pick us up who was great! He was very informative on history and tradition and made our journey very interesting! 
From United Kingdom
Sun 30th October 2016 3.00AM