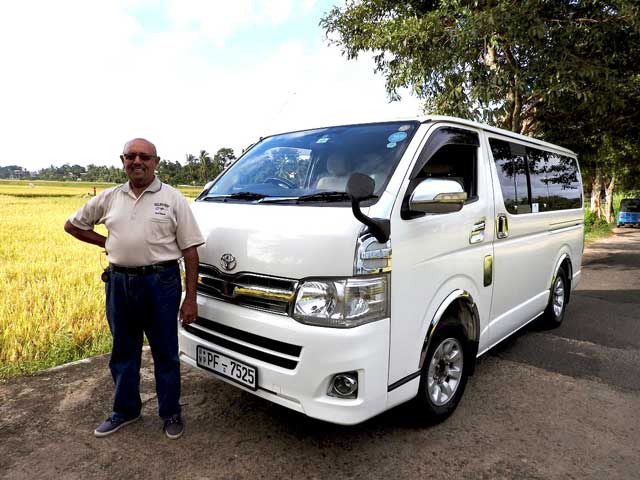 Name   : Ervin
Vehicle: Toyota Hiace
Ervin is a very friendly and courteous driver guide. He has over 15 years' experience as a chauffeur guide. His special interests lie in taking clients to the most scenic sites in Sri Lanka as he loves photography. He spends his spare time in his small cottage up in the hills and also restoring his vintage morris minor. Always prepared to share his knowledge and experience. Ervin offers clients a journey with lots of fun and laughter through Sri Lanka's history, culture, hill country and wild life on his tours.
Thank you for providing us with an extraordinary and memorable holiday that we had hoped for. Your calm assured manner, discrete presence, excellent driving and much knowledge on all matters relating to your country made this a holiday of a lifetime for our family.
From United Kingdom
Fri 3rd July 2015 3.00AM
From Australia
Thu 23rd July 2015 23.00AM
Ervin was great, he was helpful and friendly and went out of his way to make sure we were comfortable and he also juggled things a round to make sure we were seeing things at the best time. He was certainly a huge part of making this holiday a success.
Thank you soooo much for being such an amazing guide and host. We have appreciated your patience, kindness, extensive knowledge and humor. How will we cope without you when you keep us so well organized and we never have to worry about everything. We will deffinetely recomend you to our friends back home. 
From United Kingdom
Mon 10th August 2015 10.00AM